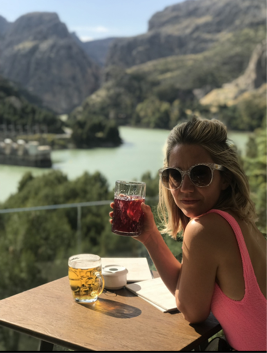 How did you get in to pilates?
I started attending a pilates class when my youngest daughter started school. I knew nothing about  Pilates but after the first few session with a fabulous teacher I was hooked. One of the biggest benefits I noticed straight away was the impact it had on my mental state. After a pilates class I felt clearer in my head, more grounded and productive with my thoughts which was a welcomed feeling .
 
 I then went on to do my Pilates training and was lucky enough to have the amazing Suzanne Scott train me at The Scott Studio in Castle Cary. I qualified as instructor in 2013 and have been learning and teaching ever since . 
What do you love about teaching Pilates ?
I love helping people discover their true self and pilates is my way of doing this .
That light bulb moment , when a client understands for themselves the connections in their body and how they have the power and tools to change , this is priceless and still gives my joy.
I had one new client who suffered from asthma and over the first few weeks of doing Pilates, noticed a huge difference in her ability to breath more easily, she was so happy and surprised by this change. This is one of the most rewarding parts of being a Pilates Teacher is giving someone the tools to be able to find that change within their body. I'm hugely grateful and feel so honoured that I can open this door for them to continue their journey.
Pilates is an hour to be present in the body and just feel, notice your moves  hearing what your body has to communicate to you. 
Be present and you will gain the benefits . Mindful movement is like taking your body on a date !
When I qualified I went on to teach at the Bath Pilates studio where I do Matwork classes and 1:1 sessions.
I have many 1:1 clients which I love as you create lots of lovely friendships. Over the last 4 years  I have been at the start of the Performing Arts course at the college, teaching young theatre performers Pilates as part of their course. It's hard work but very rewarding. 
Pilates is a body conditioning form of exercise that will improve the way your use your body day to day . Pilates involves a series of controlled movements that target specific muscles to address imbalance and realign your body . This helps your muscles and joints return to their optimum functional state to regain strength and flexibility. Gradually through the sessions you will start to feel stronger and taller, use your muscles more effectively and improve your range of movements.
What will you gain from your Pilates sessions?
Self discovery is what I would say you get from my Pilates sessions . Focusing your mind, breathing well and relaxing your body while including a range of diverse functional movement. Through fun, focused movements I take your body into ranges it was designed to use. I open up the opportunity for my students to learn and come into the wisdom and intelligence of their own body.

We do Pilates so we can enjoy the things we want to do in life with out being restricted through pain and discomfort . If you keep a healthy balance between your Mind and Body, taking time to listen you will feel the benefits . Use Pilates to connected back with your body any time you want, that's my gift to you.

Start to create a regular connection with your body in your own time in your own space , empower yourself!

Self discover, de stress, time for yourself and come away feeling more grounded and aware of your deeper strength as a person and in your physical body.
What other exercises do you do?
A part from running around after my teenage kids, running a house hold, teaching pilates, organising for styling jobs I don't find much time for any other exercise. But what I do, do everyday, which is my life saver, is walk the dog.  It has opened my eyes to the beauty and amazingness of nature.
Nature has been such an important awakening in my life. Taking my dog, Winston on a walk every morning , noticing nature unfold in front of my eyes, following the seasons bring me into the present moment .  It has been a gift that has helped me in my life, It's a tool I always know will help me feel better in my mindset.
Mediation and breathing techniques is something I'm always practising and keep developing , at the moment I'm in to sound healing, kirtan mantra singing. I have found it talks to every cell in your body changing your vibrations and communication with your cells , helping you shift and move old patterns in your body, make way for new ways to be and feel. 
Your favourite Pilates move?
It's hard to say what move is most effective because we are each dealing with different body ailments but one thing I know for sure is that everyone benefits from learning to breathe properly.
If there is one thing you can do, it's breathe deeply in to the back of the ribs and in to the belly. It exercises our organs , connects us to our centre muscles, Increases oxygen which helps blood move around the body giving nutrients to muscles and cells. Exhaling getting rid of carbon dioxide, which is acidic, bringing our bodies back to a more harmonies alkaline state, where the body feels happier.
The move advanced you get in Pilates the more you realise how the breath helps you make the movements, supporting you and allows you to feel more from each exercise.
What other interest do you have?
I love food and cooking . I will be adding recipes on this website regularly or visit my instagram account to see what I'm up to . I love art , collecting and painting and have been doing ceramics now for a few years and love it. In fact finding your centre and having an awareness of your posture is important when doing ceramics. It's amazing how everything is linked by a fine thread connecting us to everything .
 I'm also a personal stylist and style photo shoots for magazines, companies and fashion brands.
With the Personal styling and shopping  it's more about helping people express their true version of who they are and guiding them to show this through a new wardrobe over haul. This is always good fun and I love seeing my clients  shine a little brighter. 
I also love a spot of interior designing and often help out friends source items and give them inspiration. I use to do up furniture when the kids where younger and sell at the Frome market. 
You live in bath , whats your favourite places?
Corkage, restaurant to eat, Landrace bakery for the most amazing bread. I often visit art exhibitions at the uni or college to see what young creative people are doing . I'm always signing up for daily workshops as I love learning and socialising.  Grace and Mabel for shopping !
Top five reasons to try pilates?
An hour to yourself to just focus on your body forgetting all the lists you have to do .
Small controlled movements that work your body from the inside out .
Listening and having a better awareness of how your body moves and when you start to see your body change this is rewarding .
Pilates gives you the tools to change your body which I think is one of the most amazing things. Giving you back the power, taking control of your body.
Breathing, we do it every day but when we learn how to breathe probably you will notices the benefits .